Buy Ice Melt in Springfield, MO
In the icy grips of winter, especially in places like Springfield, MO, the safety of our sidewalks, driveways, and streets becomes a primary concern. Enter ice melt - a compound specifically formulated to combat the hazards of icy surfaces. This essential product works by lowering the freezing point of water, turning menacing ice patches into harmless puddles. For Springfield residents, it's not just about finding any of this product; it's about sourcing the best. That's where SPC Supply comes in. Serving the community since 1906, SPC Supply stands as a trusted distributor, known for its expertise in a plethora of products, prominently including ice melt. With deep roots in the region and an unwavering commitment to quality, they ensure that when the cold strikes, Springfield is ready.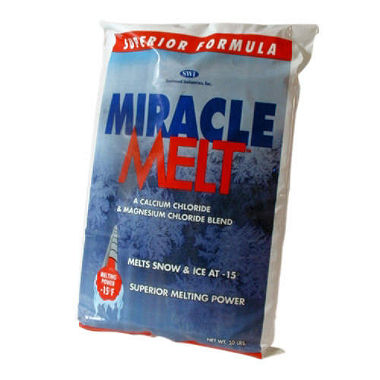 The Science Behind Ice Melt
Understanding the Chemistry
When temperatures plummet, water crystallizes, forming the slippery menace we know as ice. Road Salt products intervene in this solidification process. At the heart of it, these products contain salt compounds like calcium chloride, magnesium chloride, or potassium chloride. When applied to ice or snow, these compounds dissolve into a brine solution, which lowers the freezing point of water. This brine makes it harder for the water molecules to bond together and form ice, turning what would be a solid block into a liquid or slushy substance. It's a fascinating dance of molecules, where the presence of these dissolved salts disrupts the orderly arrangement of water molecules, preventing them from forming into a solid ice structure.
Reaping the Winter Benefits
The power of this product is not just in its chemistry but in the practical advantages it brings during the chilly season. Here are some of its paramount benefits:
Safety: By reducing icy patches, road salt significantly minimizes the risk of slips, trips, and falls – common and potentially dangerous occurrences during winter.
Accessibility: This product ensures that driveways, walkways, and roads remain accessible, preventing ice build-up that can hinder movement.
Vehicle Protection: Reducing ice on roads means less wear and tear on vehicles, protecting tires and undercarriages from potential damages caused by hard ice.
Economic Efficiency: Time and money spent on potential injury treatments or vehicle repairs can be mitigated with the preemptive use of road salt.
Understanding the science behind this product not only instills confidence in its use but also underscores its importance in maintaining safety and efficiency during the frosty months.
Importance of Ice Melt in Springfield, MO
Springfield's Wintry Past
Nestled in the heartland of the United States, Springfield, MO, has a storied relationship with winter. Historical records reveal a fluctuating pattern of snowy and icy conditions that residents have had to navigate. On average, the city experiences several inches of snow annually, accompanied by icy conditions that can transform its roads and sidewalks into treacherous terrains. Springfield's unique position, where the humid continental climate meets the humid subtropical zone, means winters can be unpredictable. From mild snowfall in one year to severe ice storms the next, preparedness for winter's whims has always been paramount for Springfield's residents.
Ice Melt to the Rescue: Springfield's Stories
The Great Ice Storm of 2007: In what many remember as one of the most severe ice storms in recent memory, Springfield was encased in layers of ice. Power lines collapsed, trees were downed, and the city came to a standstill. In the aftermath, frost melter played an invaluable role. Neighborhoods and businesses depended heavily on it to clear pathways and roads, restoring some semblance of normalcy in the following days.
Downtown Springfield's Annual Ice Festival: Every winter, as artists carve intricate sculptures during the festival, the surrounding areas become slick with icy residue. Frost melter ensures attendees can appreciate the art without the risk of slipping, making it an unsung hero of the event.
Schools and Universities: Springfield's educational institutions, such as Missouri State University, have on multiple occasions lauded the benefits of preemptive ice melt application. This proactive approach ensures students can safely navigate campuses even after a heavy snowfall or ice storm.
These instances, among many others, underscore the undeniable importance of ice melt in Springfield, MO. Through thick layers of snow or thin sheets of black ice, the city has come to rely on this compound to keep its residents safe and its activities uninterrupted.
Practical Tips for Using Ice Melt
Effective Application: Timing and Technique
Before the Snow Hits: One of the best strategies is to be proactive. By applying ice melt before a snowstorm, you can prevent ice from bonding to the surface, making removal much easier.
Uniform Distribution: When sprinkling frost melter, ensure even distribution. Clumps can lead to wastage and uneven melting. Using a handheld spreader can help with uniformity.
Temperature Matters: Some ice melt products work better at specific temperatures. Always check the product label. For instance, calcium chloride is effective at much lower temperatures than rock salt.
Safety Precautions: Mindful Melting
Protective Gear: When spreading this product, wear gloves to prevent skin irritation. Some compounds can be harsh on the skin.
Storage: Store ice melt in a dry, cool place, away from children and pets. Some formulations can be harmful if ingested.
Environmental Impact: Overuse can lead to runoff, affecting local waterways. Use only the recommended amount to minimize environmental impact.
Pet Safety: Some ice melt products can be harsh on pets' paws or toxic if ingested. Look for pet-friendly options if you have furry friends roaming your yard or sidewalks.
Springfield-Specific Tips: Embracing Local Nuances
Stay Updated: Given Springfield's unpredictable winter conditions, keep an eye on local weather forecasts. This will help you anticipate and prepare for snow or ice events.
Layering: In the face of severe ice storms, like those Springfield sometimes experiences, consider applying this product in layers. Distribute a layer before the storm and then add more as snow accumulates.
Post-Storm Cleanup: After major storms, ensure that you remove slush and pooled water. This prevents refreezing and reduces the need for additional ice melt applications.
Community Sharing: Engage with local Springfield communities, online forums, or neighborhood groups. Sharing tips and experiences can lead to more efficient ice melt usage across the city.
Mastering the art of using road salt effectively is not just about reading the product label. It's about understanding local nuances, being aware of safety precautions, and optimizing usage for the most efficient results. For Springfield residents, it's about ensuring safety while being environmentally responsible and community-minded.
Eco-Friendly Ice Melt and Their Benefits
Green Alternatives at SPC Supply
As the world becomes more conscious of environmental impacts, the demand for eco-friendly products has surged. SPC Supply, with its rich history and commitment to serving the Springfield community, has risen to the occasion by offering green alternatives in the realm of ice melt. Some of these eco-friendly options include:
Organic Salt Compounds: These compounds, derived from natural sources, are designed to melt ice efficiently without the harmful side effects some traditional ice melts can have on the environment.
Beet Juice and Cheese Brine Mixes: An innovative solution, these organic mixtures reduce the amount of salt entering the environment, providing effective melting with fewer chemicals.
Bio-based Accelerators: Infused into traditional ice melt, these accelerators reduce the amount of product needed, making them last longer and reducing the environmental footprint.
Why Springfield's Ecology Needs Green Solutions
Springfield's vibrant ecosystem is home to a variety of flora and fauna. The waterways, soil, and plant life form an intricate web that can be sensitive to chemical changes. Here's why choosing environmentally friendly products, like the ice melt alternatives offered by SPC Supply, is crucial:
Waterway Protection: Excessive use of traditional ice melts can lead to runoff that enters local rivers and streams. High salt concentrations can harm aquatic life and disrupt the natural balance.
Soil Health: Salt can seep into the soil, affecting its composition and, in turn, the plant life it supports. By reducing salt input, we protect Springfield's lush landscapes and gardens.
Long-Term Community Health: The environmental health of Springfield is directly linked to the well-being of its residents. Clean water, healthy soil, and vibrant green spaces contribute to the overall quality of life in the city.
Choosing eco-friendly ice melt is more than just an environmental decision; it's a commitment to the health and longevity of the Springfield community. As residents and businesses, like SPC Supply, make these green choices, they pave the way for a more sustainable and thriving Springfield.
SPC Supply's Commitment to Quality and Environment
Earth-Friendly Solutions: Leading with Responsibility
SPC Supply has always been at the forefront of evolving market needs, and their dedication to the environment is a testament to their forward-thinking approach. Recognizing the growing need for sustainable options, SPC Supply has consistently expanded its product line to include Earth-friendly solutions. Whether it's eco-friendly ice melt or green alternatives in janitorial and food service disposables, SPC Supply prioritizes products that not only meet functional requirements but also align with a commitment to environmental responsibility.
A Century-Old Legacy in Springfield
Since opening its doors in 1906, SPC Supply has woven itself into the fabric of Springfield's commercial history. As an independent, family-owned distributor, the company has maintained an intimate connection with the community, allowing it to respond and react swiftly to the region's needs.
A few milestones that highlight SPC Supply's track record include:
Adaptability: Over the decades, the company has continuously adapted its product offerings, ensuring Springfield businesses always have access to the best and most relevant products.
Family Values: The family-owned aspect of SPC Supply is not just about ownership. It's about a lineage of trust, quality, and a commitment to the community. Generations of Springfield residents have come to rely on the SPC name for their supply needs.
Coast-to-Coast Service: While deeply rooted in Springfield, SPC Supply's reputation has grown nationally, serving customers from coast to coast. This wide-reaching service has allowed the company to bring back insights and innovations to the Springfield community.
Embracing Green Trends: Before eco-friendliness became a global trend, SPC Supply was already leaning into environmentally conscious products. Their early adoption and promotion of green alternatives highlight their foresight and dedication to a sustainable future.
SPC Supply isn't just a distributor; it's a beacon of trust, quality, and environmental responsibility in Springfield. Their century-long journey is a story of resilience, innovation, and an unwavering commitment to both the community and the planet. As we navigate the challenges of the modern world, companies like SPC Supply light the way, exemplifying how businesses can thrive while also nurturing the world around them.
What is the most effective type of ice melt for heavy snowfall?
For heavy snowfall, calcium chloride is considered one of the most effective frost melter compounds. It can work at much lower temperatures compared to other salts and has a rapid ice-melting capability. However, it's essential to consider the specific needs and conditions of an area before making a choice.
How often should I reapply ice melt?
The frequency of reapplication depends on several factors, including the amount of precipitation, temperature, and the specific product being used. Typically, after a heavy snowfall or when melting and refreezing occur, reapplication might be necessary. Always follow the product's recommendations and monitor the area for icy patches to determine when a reapplication is needed.
Are there any natural alternatives to chemical ice melt?
Yes, there are natural alternatives to traditional chemical ice melts. Some options include sand for added traction, beet juice, and cheese brine mixes, which can reduce the need for salts. These alternatives can be effective but may work differently than traditional ice melts, so it's crucial to understand their limitations and best use cases.
Is ice melt safe for pets?
Not all ice melt products are safe for pets. Some traditional ice melts can be harsh on pets' paws or toxic if ingested. Fortunately, there are pet-friendly ice melt products available that are specifically formulated to be less harmful to pets. Always check the product label, and if you're unsure, consider consulting with a veterinarian or pet care specialist.
How does SPC Supply ensure the quality of their ice melt products?
SPC Supply takes pride in its century-long legacy of trust and quality. They have stringent quality control measures in place and collaborate with reputable manufacturers. Additionally, SPC Supply is continually updating its product range based on customer feedback, market research, and emerging innovations. Their commitment to both the community and the environment ensures they provide only the best, including their range of ice melt products.
As winter wraps its chilly embrace around Springfield, the significance of ice melt becomes undeniably evident. Ensuring safe walkways, driveways, and public spaces is not just about convenience but about community safety. For areas like Springfield, where winter conditions can vary and sometimes intensify, being prepared with effective ice melt solutions is paramount.
SPC Supply, with its rich history and commitment to Springfield, stands out as a beacon of trust in this arena. Their offerings aren't just products on a shelf but are backed by a legacy of understanding, adaptability, and dedication to both the local community and the environment.
It's a collective responsibility to prioritize both safety and the environment. As consumers, making informed choices about ice melt—leaning towards eco-friendly alternatives when possible—ensures that we're protecting our community and the planet. Let's face the winter with the dual shield of preparation and consciousness, ensuring that as the snow falls, our commitment to safety and sustainability stands tall.
Choose wisely, choose green, and trust in tried-and-tested partners like SPC Supply to guide the way.